Introduction to Learning Engineering
This course will help you:
Explain how people learn and 3 forms of cognitive processing/load during learning
Describe the complexities of creating effective instructional design and different kinds of e-learning
Apply evidence-based practice and identify research approaches to study instructional effectiveness
Given a learning objective, identify the associated kind(s) of Knowledge & Learning needed to select appropriate instructional principles
Use KLI framework to choose instructional principles that match the desired KCs and learning processes
Start Any Time
Work at your own pace and you will have instructors available to help you answer any questions.
Duration
Approximately 3 weeks, 6-8 hours/week
Fee
$1500 - Professional Rate
$500 - Full-time Student Rate*
*Proof of full time student enrollment required. Acceptable forms of id include a letter from your university's registrar office or an unofficial transcript. Email your documents to learnlab-help@lists.andrew.cmu.edu
Certificate Course Description
Learning engineering, the way we design and build learning environments, has been a part of Carnegie Mellon University's approach to education since Herb Simon coined the term more than fifty years ago. It is how we make a class effective whether it is in-person, online or hybrid. Learning engineers apply science of learning principles, evidence-based research, qualitative and quantitative cognitive task analysis, and data-driven methods to design, create, and improve educational resources and technologies that enable students and instructors to succeed.
In this course, you will get an introduction to learning engineering: the basics on how to apply learning engineering guidelines in designing e-learning; how people learn and why instructional design is complex; how to use the Knowledge-Learning-Instruction or "KLI" framework to choose instructional principles that match the desired KCs and learning processes. This course will set you on the path to being a learning engineer. If you find it interesting and want to dig deeper, you can take other courses that elaborate on the principles and methods used in learning engineering.
Our team hosts office hours for all courses over Zoom on the 2nd and 4th Wednesday of each month, 10:00 AM – 11:00 AM EDT/EST (4:00 PM – 5:00 PM CAT). On 2nd Wednesdays, Dr. Ken Koedinger, who is the Director of the Masters of Educational Technology and Applied Learning Sciences (METALS) program, will be available. On 4th Wednesdays, you will have the opportunity to speak with our learning engineers.
Module 1: E-learning Promises and Pitfalls
Recall elements of the learning design big picture diagram

Classify kinds of e-learning

Timing: synchronous & asynchronous
Lessons: inform, perform procedure or perform principle
Architectures: receptive, directive, or guided discovery

Evaluate research evidence on media comparisons

Identify the good, bad, & ugly of e-learning
Module 2: How People Learn and Instructional Complexity
Distinguish:

technology-centered vs. learner-centered
learning vs. instruction

Identify:

3 metaphors for learning
3 learning principles & processes
4 key learning events/principles

Distinguish 3 forms of cognitive processing/load during learning

Explain why instructional design is complex both

because of the size of the design space and
because optimal instructional choices change depending on content
Module 3: Knowledge-Learning-Instruction Framework
Categorize knowledge components along four dimensions

Explain differences between KLI's Knowledge Components, Learning Events, Instructional Events, Assessment Events

Explain which learning processes are needed for which kinds of knowledge

Given an instructional principle, explain what learning process(es) it facilitates

Given a learning objective, identify the associated kind(s) of Knowledge & Learning needed to select appropriate instructional principles

Analyze boundary conditions for when worked examples is more effective than practice
Module 4: Evidence-based practice and Applying the Guidelines
Apply evidence-based practice

Identify:

research approaches to study instructional effectiveness
features of good experiments
reasons for no effect
research relevant to your organization

Interpret significance in statistics

Summarize key concepts of KLI framework

Define Instructional goals, KCs, learning processes
Explain the interrelationships between KCs and the "best" corresponding learning process
Explain the interrelationships between types of KCs, learning processes and instructional principles

Use KLI to choose instructional principles that match the desired KCs and learning processes
Module 5: Course Project or Final Exam
At the end of the course, you'll have an opportunity to do a little project where you will demonstrate your ability to apply learning engineering based on accumulated evidence in research. That will provide you with a nice experience to apply the fundamentals you will learn in the modules to a larger, more authentic, context. It will be graded by the instructor and you will receive personalized feedback along with a sample solution.
You will have an alternative option to take a final exam where you will answer 20 questions. The exam can be taken multiple times and each time new questions are randomly selected from a pool of more than 150 questions.
You are also free to do both the course project and the final exam, we will consider the one in which you score more for counting towards the certificate.
Researchers, product/UX designers, instructional designers, and students who want to get an introduction to the field of learning engineering. Anyone interested in edtech.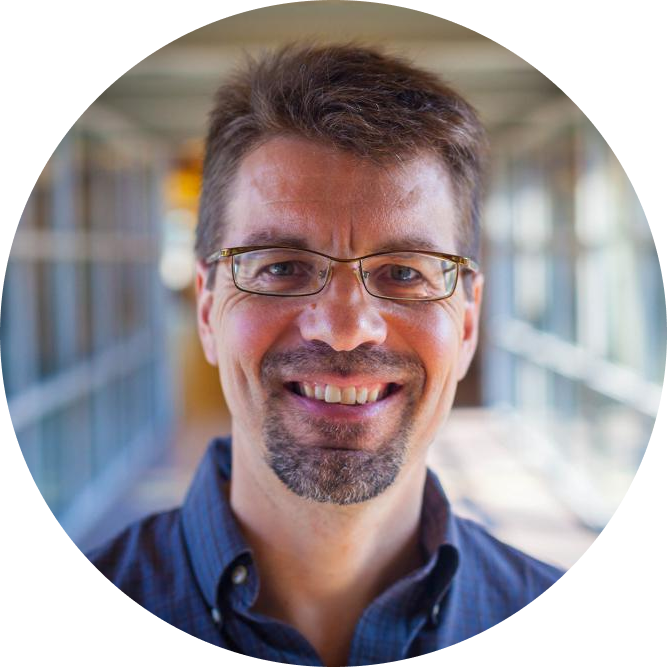 Dr. Ken Koedinger
is a professor of Human-Computer Interaction and Psychology at Carnegie Mellon University. Dr. Koedinger has an M.S. in Computer Science, a Ph.D. in Cognitive Psychology, and experience teaching in an urban high school. His multidisciplinary background supports his research goals of understanding human learning and creating educational technologies…
Upon successful completion of the program, participants will receive a verified digital certificate of completion from Carnegie Mellon University's Open Learning Initiative.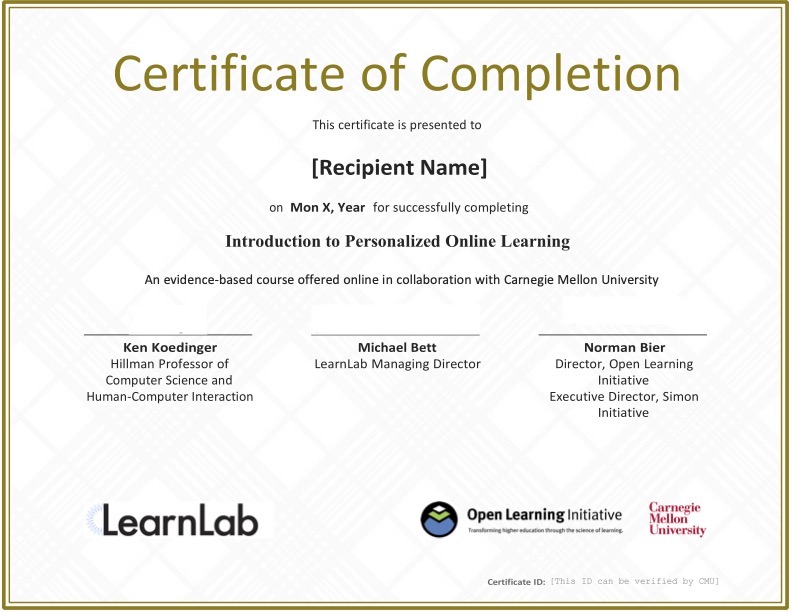 In addition to the knowledge and immediately applicable frameworks you will gain by attending your selected courses, you will benefit from:
A digital, verified version of your Executive Certificate (Smart Certificate) you can add to your resume and LinkedIn
Networking with a global group of your peers and instructors for advancing your career
Enter your email address:
For this course, copy the course key: ITLE-001
If needed, watch this video on how to register in OLI:
Optional additional step but highly recommended:
Set OLI to automatically resume from where you left off in the course:
1) Click on your name in the upper right corner to bring up your OLI profile settings.
2) Change the option on the dropdown to "Yes, always resume automatically".
3) Lastly, select "UPDATE".