Certificate Course Description: How do you ensure that you are able to design effective instructional activities? Richard Mayer developed 6 powerful principles of multimedia learning that, if followed, will help you develop effective learning experiences for your learners. In this course, you will learn about the principles, why they work, and how to apply them in your own work. After completing this certificate course, you will be able to use multimedia principles in designing effective, engaging digital learning experiences whether it is a video, presentation, or a fully online course.
Targeted Audience: Instructional designers, managers, and executives
Upon completing the course you will be able to:
Describe each multimedia principle
Apply the multimedia principles in an e-learning design context
You will learn to:
Describe the following principles:


Multimedia principle
Contiguity principle
Modality principle
Redundancy principle
Coherence principle
Personalization principles

Describe how CTA can be used to improve the application of each of the principles
Recognize when any of the principles are violated
Duration:
three weeks, approximately 6 hours/week
Prerequisite:
None
Fee:
$1500
Certificate

:

Upon successful course completion, students receive a certificate. Certificates do not convert into university credit.



Register and start taking the course in four steps:
1. Enter your email address
2. Watch this short video for instructions on how to register in OLI.
3. For this course, copy the course key: MPEL-001
4. Click on this link to Carnegie Mellon University's Open Initiative to register and try out the course for 48 hours before payment is due
5. (Optional but highly recommended) Set OLI to automatically resume from where you left off in the course.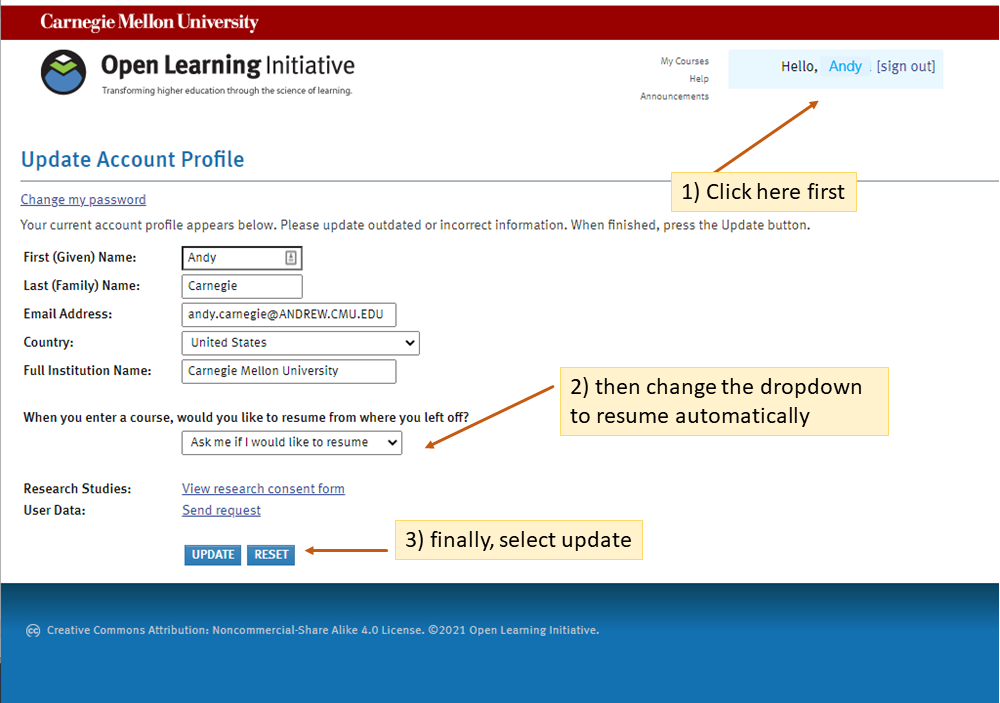 1) Click on your name in the upper right corner to bring up your OLI profile settings.
2) Change the option on the dropdown to resume automatically.
3) Lastly, select UPDATE.
You are all set.