Introduction to Personalized Online Learning
Certificate Course Description:
Online learning has become widespread and many claim it will revolutionize education by adapting to the individual learner's needs. Yet, this is a complex task. To meet this goal instruction must take into account how learners are different, how they are similar, and how they change as they learn.
In this course, you will learn methods to adapt to learner needs that are supported by research taking into account multiple psychological realms, such as combinations of knowledge, path through problem, and affect. You will learn how advanced learning technologies that adapt to learners can provide individualized experiences that optimize learning. You will be exposed to a number of proven personalization techniques used in advanced learning technologies. We will also survey newer techniques, such as personalizing based on student metacognition, affect, and motivation. Finally, we will look at personalization approaches that are widely believed to be effective but have not proven to be so.
You will learn to:
Define adaptivity in learning technologies and Intelligent Tutoring System (ITS)

Explain the key individual differences between learners, including cognitive and metacognitive factors, affect, motivation

Describe the different ways you can adapt to your learners using a 5X3 adaptivity grid and the relationship between its components

Know areas of adaptivity grid learning technologies and ITSs can adapt to

Describe techniques utilized by advanced learning technologies (such as intelligent tutoring systems) to prov

ide personalized learning; in particular, know how these techniques assess learners and customize instruction accordingly

Describe the most common instructional design principles and design space for cognitive tutors
Targeted Audience: Researchers, product/UX designers, and instructional designers who want to develop adaptive and personalized educational experiences. Administrators who want to gain a deep understanding of how personalized learning is delivered. Anyone interested in edtech.
Duration:
Approximately 3 weeks, 6-8 hours/week
Prerequisite:
None
Fee

:

Normally $2000. Now $1000 for the course first run in July and August 2021 only.
Certificate:
Upon successful course completion, students receive a certificate of completion. Certificates do not convert into university credit.
Register and start taking the course in four steps:
1. Enter your email address
2. Watch this short video for instructions on how to register in OLI.
3. For this course, copy the course key: POL-001
4. Click on this link to Carnegie Mellon University's Open Initiative to register and try out the course for 48 hours before payment is due.
5. (Optional but highly recommended) Set OLI to automatically resume from where you left off in the course.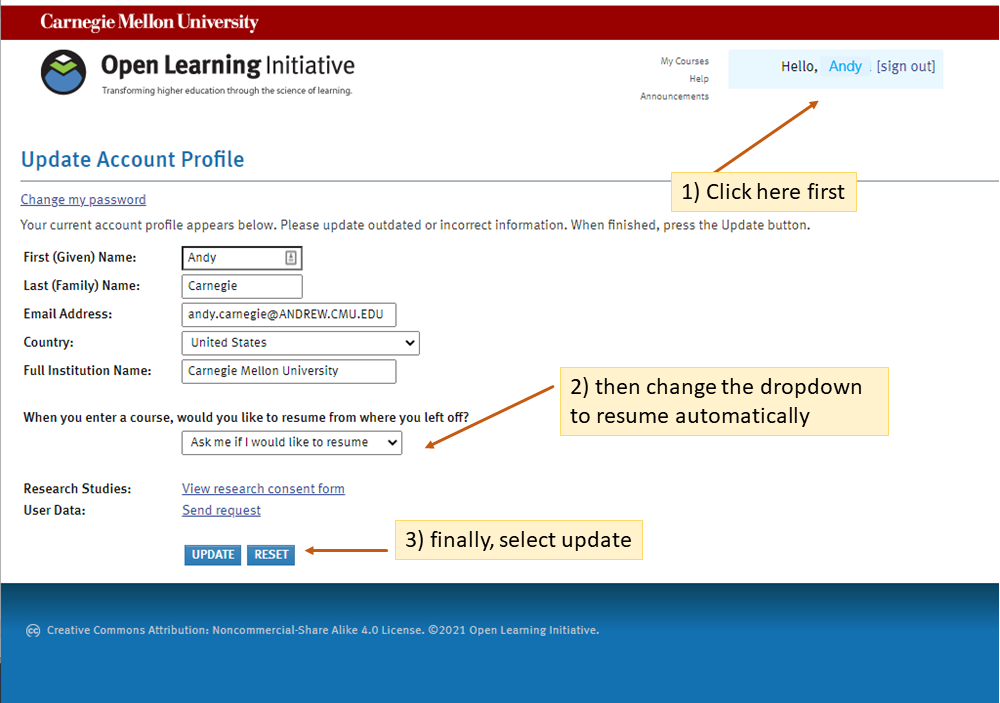 1) Click on your name in the upper right corner to bring up your OLI profile settings.
2) Change the option on the dropdown to resume automatically.
3) Lastly, select UPDATE.
You are all set.
Your Instructor:
Dr. Vincent Aleven
Dr. Vincent Aleven is a Professor in Carnegie Mellon's Human-Computer Interaction Institute (HCII). He has 20 years of experience in research and development of advanced learning technologies, grounded in cognitive theory.
Your Instructor:
Dr. Ken Koedinger
is a professor of Human Computer Interaction and Psychology at Carnegie Mellon University. Dr. Koedinger has an M.S. in Computer Science, a Ph.D. in Cognitive Psychology, and experience teaching in an urban high school. His multidisciplinary background supports his research goals of understanding human learning and creating educational technologies…