Course Description:
How do you know that the chosen instruction method is effective? Is there a method of instruction that would be best for a certain type of material? In this certificate course, you will learn how to: apply evidence-based practice to identify and design good experiments to verify instructional effectiveness, select the most effective method of instruction based on the type of knowledge, design learning material with deliberate practice and effective feedback, and leverage worked examples and self-explanation to create effective e-learning designs.
Learning Objectives:
Explain how deliberate practice is different from the general idea of practice
Evaluate and design instruction based on evidence for:

how much practice to include
what kind of practice is best and how to distribute it
what kind of feedback is best
how to layout practice exercises
Duration:
Approximately 2 weeks, 6-8 hours/week
Prerequisites:
None
Fee:
$1000
Certificate

:

Upon successful course completion, students receive a certificate. Certificates do not convert into university credit.
Register and start taking the course in four steps:
1. Enter your email address
2. Watch this short video for instructions on how to register in OLI.
3. For this course, copy the course key: ELDP-014
4. Click on this link to Carnegie Mellon University's Open Initiative to register and try out the course for 48 hours before payment is due.
5. (Optional but highly recommended) Set OLI to automatically resume from where you left off in the course.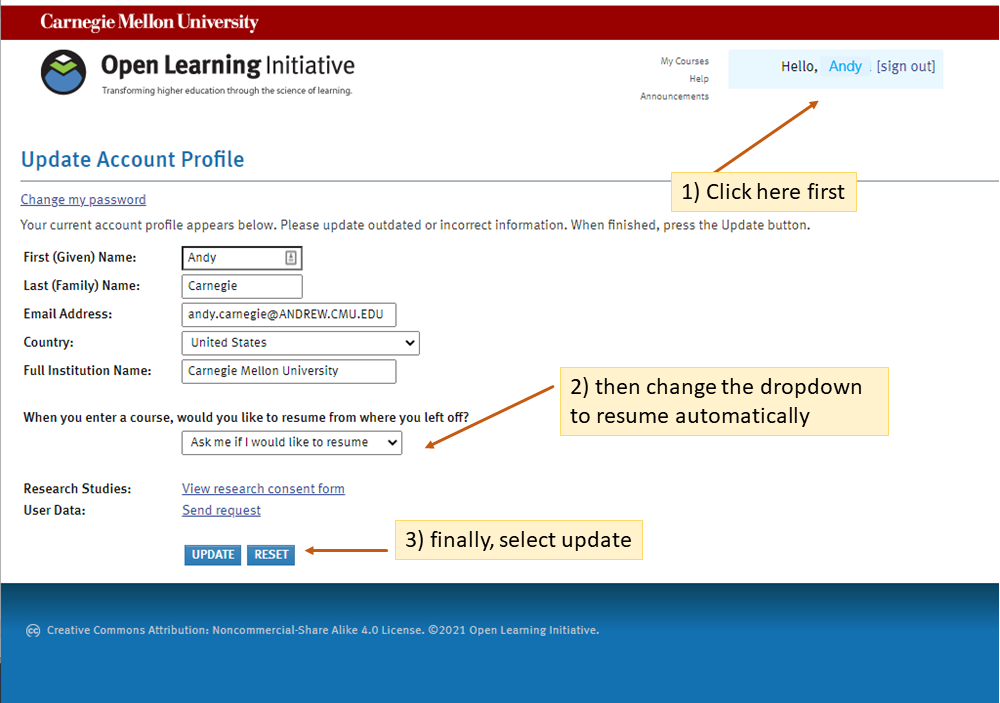 1) Click on your name in the upper right corner to bring up your OLI profile settings.
2) Change the option on the dropdown to resume automatically.
3) Lastly, select UPDATE.
You are all set.