Certificate Course Description:
In this certificate course, students will learn how to design innovative e-learning, that is, online interactions and technology that make learning more effective and efficient. Instructional designers employ "backward design": using scientifically-based principles and practical strategies for aligning the instructional program and its valid assessment with learners and goals. Today's learning engineers do not simply design in sequence — goals then assessments then instruction — but are agile and iterative. They collect qualitative data, for example, by having an expert "think aloud" while performing one of their assessments and use the results to add or change goals. They collect and use quantitative data, for example, by mining learning data from online course interactions. You will do so too in an end-to-end e-learning design project, where you develop an e-learning module of your choice. In the process, students will enhance their ability to read and critique professional articles, synthesize theories, and research findings to design and evaluate the instructional programs based on backward design.
You will learn to:
Explain the backward design and the interrelationships between goals, assessment, and instruction
Map elements of Bloom's taxonomy to examples and the E-Learning Big Picture
Categorize knowledge components along four dimensions based on the KLI framework
Explain differences between KLI's Knowledge Components, Learning Events, Instructional Events, Assessment Events
Identify key hypotheses of the KLI framework and how it fits in the E-Learning Big Picture
Evaluate and improve goals using KLI, Bloom's taxonomy, and ABCD
Compare the purpose of formative and summative assessments
Recognize the value and limitations of self-assessment
Explain why knowledge goals must be inferred from models of data
Explain why "if-then" production rules are a good way to express the output (model & insights) of a Cognitive Task Analysis
Explain and exemplify how Cognitive Task Analysis can be used to identify learning goals
Explain why the four Contextual Inquiry Principles principles aid goal specification
Evaluate and modify assessment questions based on KLI and Bloom's taxonomy
Recognize the variety of assessment authoring tools and salient features (good and not-so-good) of these tools
Implement well-designed assessments online using some assessment authoring tool
Duration:
Approximately 4 weeks, 6-8 hours/week
Prerequisite:
None
Fee

:

$2000
Certificate:
Upon successful course completion, students receive a certificate. Certificates do not convert into university credit.
Register and start taking the course in four steps:
1. Enter your email address
2. Watch this short video for instructions on how to register in OLI.
3. For this course, copy the course key: FBD-001
4. Click on this link to Carnegie Mellon University's Open Initiative to register and try out the course for 48 hours before payment is due.
5. (Optional but highly recommended) Set OLI to automatically resume from where you left off in the course.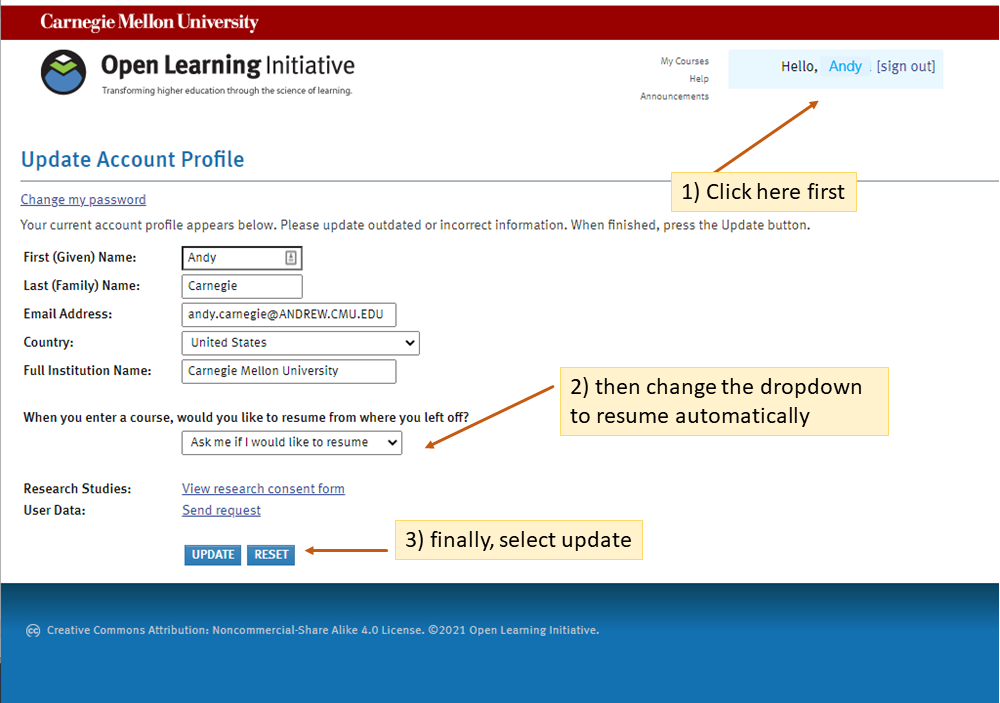 1) Click on your name in the upper right corner to bring up your OLI profile settings.
2) Change the option on the dropdown to resume automatically.
3) Lastly, select UPDATE.
You are all set.