Uncovering Implicit Knowledge with Cognitive Task Analysis
Certificate Course Description:
The great majority of our knowledge is hidden in our subconscious and we are not aware of it (expert blind spot). As a result, an expert in the field creates instructions full of gaps due to the expert blind spot. Cognitive task analysis (CTA) provides a method that helps experts access their hidden knowledge and create better instruction. CTA could also be used to identify areas of struggle for learners and help tackle them.
In this mini-course you will learn about methods of CTA such as Clark's five steps of CTA via structured interview, principles of contextual inquiry, think aloud, and difficulty factor assessment (DFA). You will learn how to apply each of these methods in a practical context and interpret the result to design effective learning experiences.
You will learn to:
Effectively employ the five steps of cognitive task analysis via structured interview

Conduct an effective contextual inquiry and t

hink aloud

Distinguish between the four kinds of cognitive task analysis

Use cognitive task analysis to improve the learning experience
Duration:
Approximately 3 weeks, 6-8 hours/week
Prerequisite:
None
Fee

:

Normally $1500. Now $750 for the course first run in July and August 2021 only.
Certificate:
Upon successful course completion, students receive a certificate of completion. Certificates do not convert into university credit.
Register and start taking the course in four steps:
1. Enter your email address
2. Watch this short video for instructions on how to register in OLI.
3. For this course, copy the course key: CTA-001
4. Click on this link to Carnegie Mellon University's Open Initiative to register and try out the course for 48 hours before payment is due.
5. (Optional but highly recommended) Set OLI to automatically resume from where you left off in the course.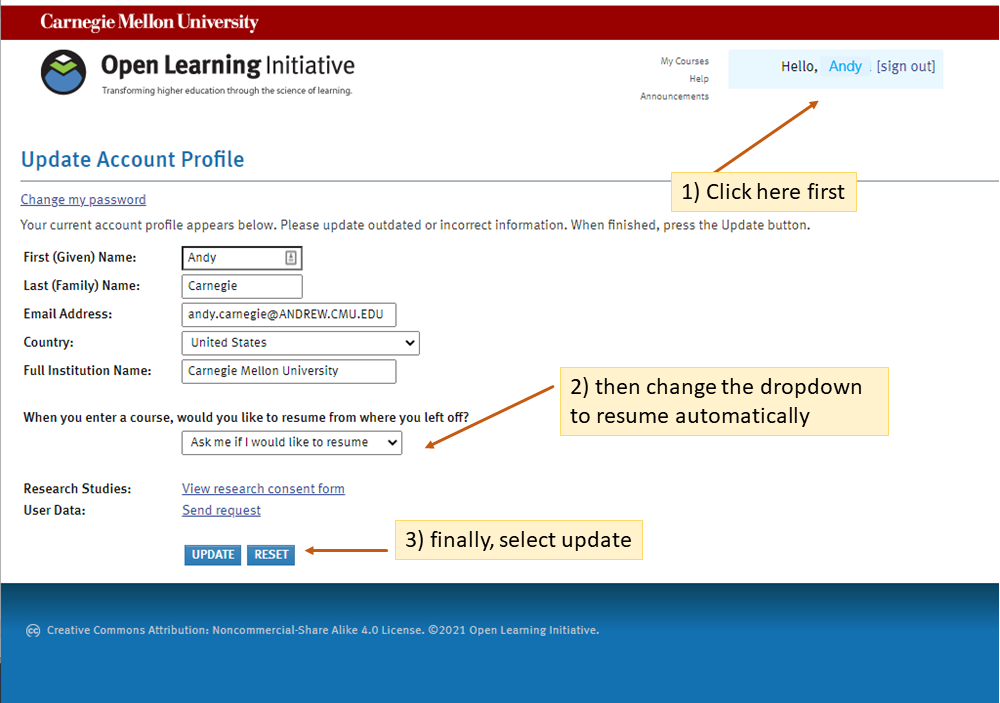 1) Click on your name in the upper right corner to bring up your OLI profile settings.
2) Change the option on the dropdown to resume automatically.
3) Lastly, select UPDATE.
You are all set.
Your Instructor:
Dr. Ken Koedinger
is a professor of Human Computer Interaction and Psychology at Carnegie Mellon University. Dr. Koedinger has an M.S. in Computer Science, a Ph.D. in Cognitive Psychology, and experience teaching in an urban high school. His multidisciplinary background supports his research goals of understanding human learning and creating educational technologies…